The admission is strictly based on performance in the admission test. Parents / guardians are asked to fill in the admission forms with the utmost accuracy. No subsequent changes will be permitted.
All admissions will be based strictly on the merit of the candidate and availability of seats. Any effort to seek admission by offering a donation to the school or by some recommendation will debar a student from getting admission.
The School Management reserves the right to admit or refuse pupils seeking admission to the school without furnishing any reason whatsoever. Similarly, the management decides when the question of retaining a student in school arises.
Documents Necessary at the time of admission –
a) Separate coloured passport size photographs of child, father and mother.
b) Birth Certificate from Municipality, Corporation or Panchayat. (Original & Photo copy)
c) Blood Group of the child.
The details for admission for class L.K.G. will be available in the month of September/October for Class XI in the month of December/January and for other classes in the month of February in the School's Website.
SCHOOL TIMINGS
Monday to Saturday
LKG & UKG
8:30 AM – 12:40 PM
 
Classes I to V
8:30 AM – 2:00 PM
 
Classes VI to XII
8:30 AM – 2:40 PM
 
Admission process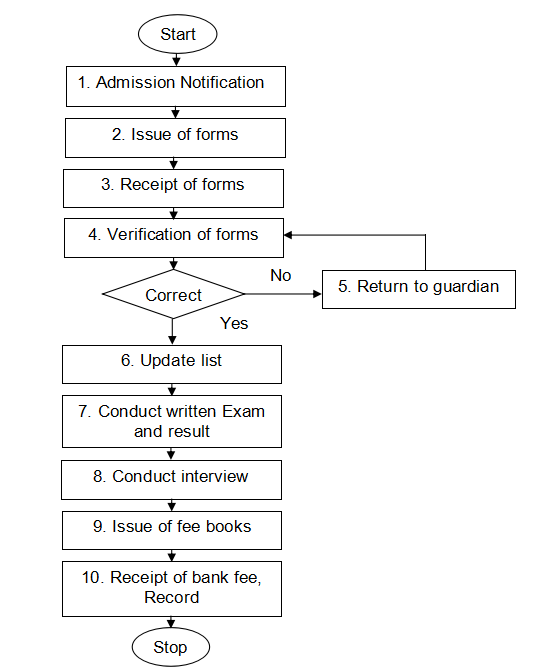 The notification for admission is given two months in advance. The notice is displayed on the school Notice Board and the school gate as well as updates are given on the school's website. Copies are sent to members of the Society and the Unit Heads of neighbouring running factories. The Admission forms are issued by the office clerk as per specified timings after the furnishing of the date of birth of prospective student. The office clerk verifies the forms and returns the incomplete ones. An updated list is then prepared for admission.
The written examinations are held on a particular date. All candidates and their parents are interviewed by the Principal. All approved candidates are issued bank fee books and the receipt of bank fees is recorded in the admission register.  
The Lower Kindergarten students (Age group 3 1/2+) are admitted after interviewing the parents.
Students seeking admission to other classes have to appear for an entrance test in core subjects like Hindi, English and Mathematics. The standard of the test is fixed considering the class the applicant is studying in.
In the admission-interview the guardians of the child are studied carefully in order to assess the future performance of the child.
The key participants in the process are parents, students, teachers, Principal and office staff.