About Aditya Birla Vani Bharati
A FRONT RUNNER IN PROVIDING QUALITY EDUCATION SINCE 1959
WELCOME TO ADITYA BIRLA VANI BHARATI SCHOOL
Aditya Birla Vani Bharati, Rishra, an English medium co-educational senior secondary school affiliated to CENTRAL BOARD OF SECONDARY EDUCATION(CBSE), New Delhi under the aegis of G.D. Birla Medical Research and Educational Foundation is a state-of-the-art modern school. Spread over a sprawling 9834 sq. meters plush campus, the school is equipped with the best amenities, giving students ample opportunities to manifest their talents.
Since its inception on 6th April, 1959, the school has striven to provide a holistic  education that ensures high standards of academic excellence complemented by a kaleidoscope of co-curricular activities.
It was founded in the year 1959 with just a handful of students when the Maheswari Mahila Samaj set up a Montessori Unit. Since then Aditya Birla Vani Bharati Senior Secondary School has blossomed into one of the premiere educational institutions of the state.
Trusted over 63 years as one of the best schools in Hooghly, our school curriculum is designed to help prepare children for opportunities and challenges – both in and out of the classroom. Aditya Birla Vani Bharati Alumni, now placed professionally across the globe, bring home stories about how we have been able to guide them and broaden their horizons to venture out into today's competitive world with confidence.
The aim of this institution is to impart sound based education by inculcating in the students habits of piety, virtue, discipline and self-reliance during the years of their studies, thus enabling them to be dutiful and useful citizens of their motherland, India.
We seek to form the young, through education into men and women of character, competence, conscience, compassion, commitment and without discrimination who will foster uprightness in public life.
Special attention is given to ensure a high standard of morality and discipline in the school. Guardians are requested to collaborate with the School Authorities by insisting on regular attendance and punctuality of their wards.
.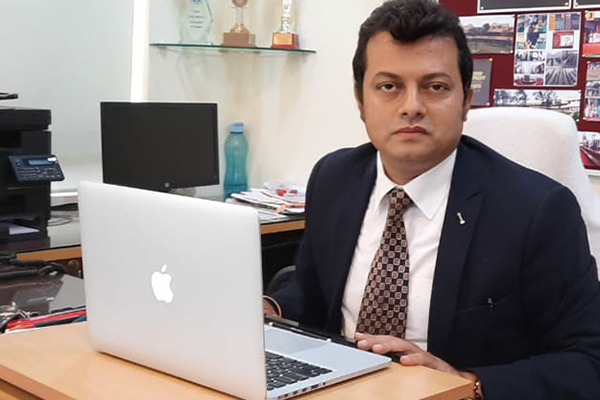 Principal's Message
"Education is not about grounding for only a part of life  but is about training for the whole of life and the genuine aspects of living."
Goutam Sarkar
Principal of Aditya Birla Vani Bharati